Turn Your Passion into a Profitable Yoga Business!
Make an Income & Impact Doing What You  Love!
Yoga is one of the most demanding services these days, there are many yoga schools around the world  that is offering personal and professional yoga training. As Yoga is a potential career option around the world, that's why many people have chosen an effective Yoga school that offers quality training and certification to begin their careers in Yoga Industry. 
India is the land of Yoga & Spiritualism and there are many places that are famous for Yoga. There are many Yoga Schools, Centers, and Studios for teaching & training Yoga. These Yoga schools have quality teaching material but the issues are that they have very little information about the Internet world and Online promotions to spread out Yoga knowledge and bring the Students to the Center. 
We at Tricky Mind Solution offer complete marketing services for yoga training centers around the world.  We offer complete online marketing like SEO, Social media marketing, Google Adwords PPC, etc services to grow your business.
When you start a yoga teacher training center you have several questions in your mind like.
how to grow your yoga class?
How can I promote my yoga business?
How do I promote my yoga class?
How do I market myself as a yoga instructor?
How do I start a yoga business?
How do you start a yoga studio?

And many more…
We at Tricky Mind Solution help you find the answer to all of your queries.
We design a complete yoga business marketing plan which will work for you.  We will work on the following point to do the marketing of yoga school/center.
Yoga School/Studio Online Marketing
You must require a yoga website to start the yoga business or yoga training center. The website is the main bridge between you and yoga students. We have a professionals team of developers and designers who are experts to develop a responsive and mobile-friendly yoga training center website.  We will implement the booking calendar and PayPal payment gateway which is the most important for a yoga website. 
We will work closely with your team to optimize the yoga website content and implement the modern schema and other SEO technique which help you improve Google ranking.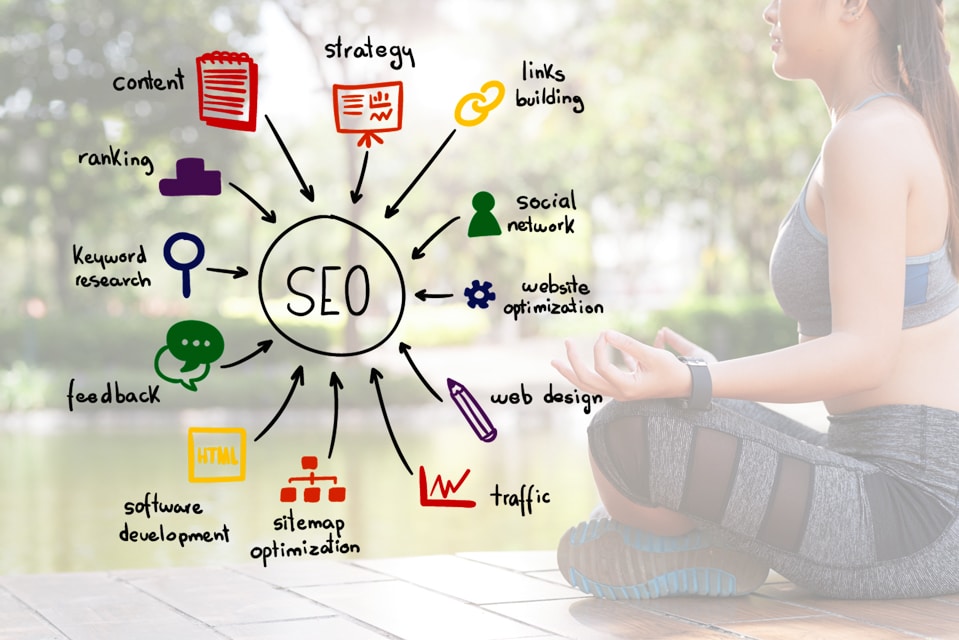 SEO (Search engine optimization) is a process to improve website ranking on Google for targeted keywords. We have specially design SEO services for the Yoga industry. Our Yoga SEO services increase the keyword's organic ranking on Google. We will do complete onsite SEO and offsite SEO for a Yoga website. We have an experienced team that helps you to drive traffic from targeted countries. Our Yoga SEO services help you get more bookings from the website. We will do yoga event submission and have a great list of 3rd party yoga directories where we will register your yoga business so you will start a new booking within a quarter.  Yoga website SEO we will work on 2 phase
Pahse1
We will start building a local citation for yoga business and make your company profile on different local citation websites/directories like Google Map, Trip Advisor, Yoga Alliance website and many more which will increase the yoga school authenticity.
Phase 2 
During this phase, we will work on link building and focus on keywords ranking. This is a long term process and we will build backlinks for each keyword which helps to increase keywords ranking on Google.
During our Yoga SEO services, you will find the website traffic will increase up to 200% within 6 months, it grabs a lot of new students
Yoga Social Media Marketing
Social Media marketing is one of the best online marketing techniques for yoga school, and it is very important to increase the yoga business and generate new bookings. We will focus on Facebook, Instagram and YouTube these 3 are most popular in the yoga industry and help find new students for your Yoga School. 
We have an expert team that will manage all social media activities for you and will join new groups and does regular posting on different groups will also reply to customer queries on social media so you have the best online reputation.
Google Adword is the world's most popular advertising platform which helps you show your information on top pages on Google search and display network. We will run a Google AdWord campaign for your yoga school to generate a new query. We have Google Adwords certified person in the team who will work closely with your campaign and improve the PPC campaign. We also offer facebook ads, taboola ads, and other ads platforms as per client requirements. We will design a plan and share the complete details with the clients so the client has a clear idea about what we will do during the services and how effective any platform for marketing.
We have a professional team that will help you generate a yoga website or blog content. As you know the content is the most important to do yoga website digital marketing. Our team works closely with you and write content for the blog article on your yoga style. We have experience in writing content for ashtanga, Hatha, Yin, and vinyasa yoga style. If you require video content related to different yoga Asana and pose, Our professional team will help you to develop this content. 
360 Degree Yoga Marketing Technique
All you need to do is ask yourself if you're ready.
READY

 to create and sustain a successful, thriving yoga business.

READY

 to put in the work and implement new strategies that bring about the change you need.

READY

 to adopt a growth mindset and be empowered, driven yoga entrepreneur that you are.  

READY

 to get on the right path to building the business of your dreams right here, right now.
Our 360 Degree Yoga marketing services help you grow your yoga business; we offer different activities (online workshop) during our marketing services which help you generate long-term international business relationships. 
The 360 Degree yoga business marketing technique including the marketing automation process which we will set up for you and it will start following the website traffic, this system will work on marketing automation which will start following the traffic and convert that user to yoga students.
This Yoga Marketing system designed to grow your business rapidly and during these 360-degree yoga marketing processes, we follow these steps.
Identify the ideal student & web traffic which will convert to a student

Identify the targeted market and plan for business development

Build/ Optimize the website design

Build/optimize the website content 

Building and implementing the blogging with your website for the outbound marketing process

Build an email list and setup complete email marketing 

Develop a social media plan and grab new follower every month

Work on the brand development plan

Grow the yoga business beyond Google.
We gureentee after completing a quater your will find bellow point of improvemnt in your Yoga Business
Are you still having a query regarding how to grow your yoga business?

Book a free 20 Minutes consultation call with our expert. Don't forget to share your website links.
Rank Your Yoga School websiite on Google 1st page for your targeted keywords
Show your campaign for targeted customer to get more booking
Build your yoga school online reputation and get new booking
360 Degree marketing solution for your yoga school to build a brand in the industry